Aqua Tantra - Fluidity & Surrender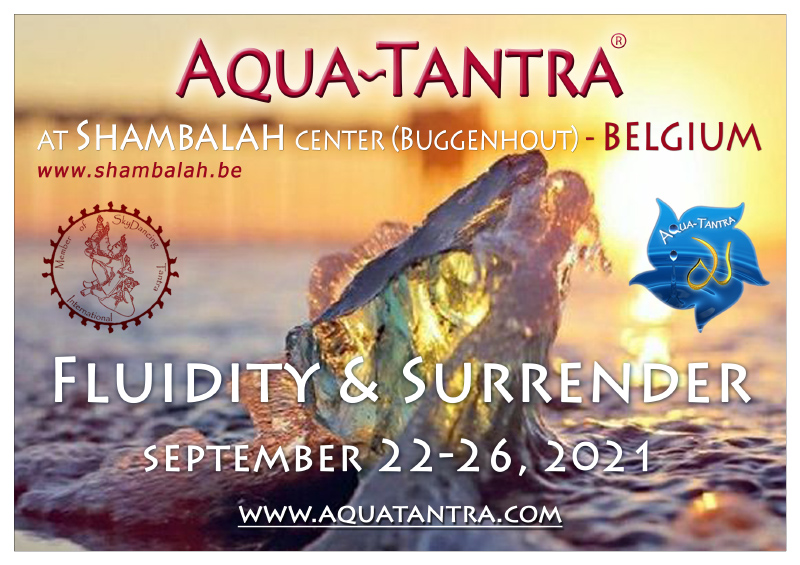 Calendar
Date

22 09 2021

-

26 09 2021
Description
Aqua Tantra - Fluidity and Surrender
The seminar will take place in the wonderful venue of Shambalah (Buggenhout - Belgium): Aquatemple Shambalah
Led by Bodhi Sambhava et Johann Azuelos, certified SkyDancing® Tantra teachers.
Through a co-creation that brings together the aquatic world and Tantra, Aqua-Tantra connects us to our fluidity, to our potential for ecstasy and naturally invites us to explore our true nature! It re-experiences the global and natural harmony of the being. It will allow you to discover your Yin & Yang, to surrender to being yourself in full consciousness.
We intend to:
Emphasizing the experience of inner flow, connecting with your own divine love
Experiencing the flow of your vital/sexual energy between your physical and energetic bodies.
Inviting you to surrender to the natural impulses of life, free from artificial constraints and inhibitions.
To consider the human experience in its entirety, to live concretely the experience of non-duality, to familiarize ourselves with the problems of choice, to de-dramatize sexuality in order to become your own creator by referring neither to the past nor to the future but by living the experience in the present moment.
Taste the fluidity and the letting go through deep relaxations and hot water practices.
Let our vital energy flow. Regain trust in ourselves, in others, in the magic of love. Experience surrender, trust in life. Increase our capacity to love and be loved.
Explore the use of the "tantric keys" (especially breath, movement and sound) as tools to achieve a natural flow and connection with life in an attitude of surrender and trust.
Create a conscious awareness of our fluidity in love and life.
Experience how the powers of love and trust transform ourselves, others and those around us as we naturally surrender to and flow with life.
We have adapted this seminar for those who want to discover Tantra for the first time, as well as for the experienced, using a gradual, relaxing and sensual approach on land as well as in water.
Who is this seminar for? :
This seminar is suitable for beginners as well as those who are already experienced in Tantra or water practices. Open to couples and singles.
It is valid as an initiation and a necessary step for those who want to go on the path of the SkyDancing Tantra Training, which is partially led by Margot Anand.
Schedule and information :
The course will start on Wednesday September 22 at 3:00 pm
and will end on Sunday, September 26, 2021 around 3:00 pm.
Language : The seminar will be in French and translated into English.
Price of the course : 390€ p.p. - Early Bird (before June 15, 2021): 360€ p.p. - Couple rate: 750€ - (spa access not included - without food - without accommodation).
Spa access : 100€ for the duration of the course.
Location : Aquatemple Shambalah in Buggenhout - Belgium
Accommodation : from 20 to 50 euros per day/person depending on the type of room and sleeping arrangements. We will propose you an accommodation on the spot or in the immediate vicinity according to the availabilities at the time of your registration.
Meals : Price of 3 meals (Breakfast + Lunch + Dinner) prepared on site: 35€ /day/pers.
Location information
Street

33 Brielstraat
City

Buggenhout
County

Oost-Vlaanderen 9255
Country

Belgium