SkyDancing Tantra Online Immersion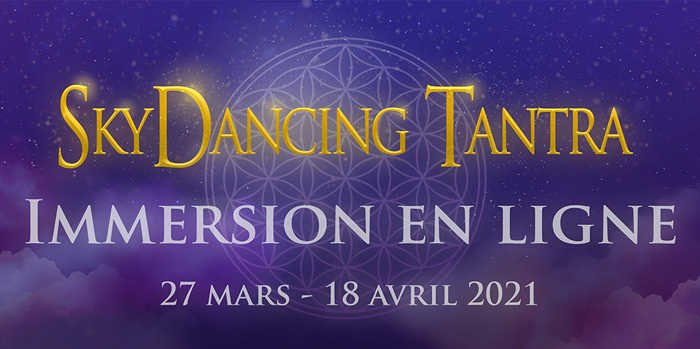 Calendar
Date

27 03 2021

-

18 04 2021
Subscribe
Description
- english below -
INSPIRÉS PAR L'ENTHOUSIASME ET LE GRAND SUCCES DE LA PREMIÈRE IMMERSION EN LIGNE DU SKYDANCING TANTRA, NOUS RÉPONDONS À VOTRE APPEL POUR CONTINUER À PARTAGER L'AMOUR!
Vivez et expérimentez le Tantra dans le confort de votre propre salon.
Vous avez le pouvoir d'accélérer votre croissance spirituelle grâce à la pratique du Tantra.
Tout le monde bénéficie de ces riches propositions, qu'il soit nouveau, avancé ou ayant déjà participé à l'Immersion.
Le Tantra est le meilleur raccourci pour actualiser votre souveraineté ; votre liberté d'être, de penser et de faire ce qui est juste pour vous.
C'est le moment idéal pour aller vers votre intériorité et approfondir votre connexion avec l'Esprit.
Amenez les enseignants chez vous! Soyez le pionnier qui a les compétences nécessaires pour intégrer le Tantra dans sa vie quotidienne.
La bonne nouvelle ? Vous n'avez même pas besoin de quitter votre maison !
Grâce à internet, vous pouvez maintenant récolter les bénéfices de travailler avec mes enseignants certifiés, d'intégrer des pratiques quotidiennes puissantes et d'apprendre avec une communauté de soutien depuis chez vous.
Si vous êtes intéressé(e) à participer à cet événement, veuillez cliquer sur le lien à droite de l'image
_______________
INSPIRED FROM THE ENTHUSIASM AND GREAT SUCCESS OF THE FIRST SKYDANCING TANTRA ONLINE IMMERSION, WE ARE ANSWERING YOUR CALL TO CONTINUE TO SHARE THE LOVE!
Experience Tantra live from the comfort of your own living room.
You have the power to accelerate your spiritual growth through the practice of Tantra.
Everyone benefits from these rich proposals, whether new, returning, or advanced.
Tantra is the best shortcut to actualizing your sovereignty; your freedom to be, think, and do what is right for you.
This is the perfect time to go inward and deepen your connection with Spirit.
Call the teachers into your own home! Be the pioneer who has the skills to integrate Tantra into your daily life.
The best part? You don't even need to leave your home!
Thanks to the internet, you can now reap the benefits of working with my certified teachers, integrating powerful daily practices, and learning with a supportive community from the comfort of your own living room.
If you are interested in participating in this event, please click on the link on the right of the image